KICK SOME WINTER ASS! COME FREE YOURSELF UP WITH THIS RADICAL CLOWNING WORKSHOP!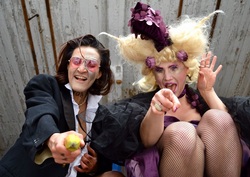 PAULINE PRODUCTIONS BRINGS TIL LALEZAR THEATRE CO. TO TEACH A 3-HOUR WORKSHOP JANUARY 29TH.
FRESHLY LAUNCHED FROM DELL' ARTE INTERNATIONAL SCHOOL OF PHYSICAL THEATRE, THESE 3 WOMEN (FROM IRAN, DENMARK & GREENFIELD) WILL SHARE GREAT EXERCISES TO BRING OUT A SIDE OF YOURSELF THAT MIGHT SURPRISE YOU
Til Lalezar Theatre creates comic, character-driven physical performance. Founders Tone Haldrup Lorenzen (Denmark), Vida Tayebati (Iran), and Grace Booth (U.S.A.) met in California when training together at Dell'Arte International's MFA Program. The Dell'Arte training is a "dynamic contemporary acting approach in which body, voice, and point of view celebrate the work of the actor/creator." It is based in ensemble creation and investigations into the territories of clown, mask, tragedy, and melodrama. Til Lalezar's work and teaching combine this training with their own absurd, gender-bending, cross-cultural perspective. Til Lalezar is currently in residence in Greenfield, MA developing their production "Happyland."
Til Lalezar's workshop explores the development of theatrical character through physicality, voice, image, games, and the concept of costume/mask. This workshop is taught by all three company members and includes discussion/exercises in ensemble-based work. Participants will have the opportunity to show their work and practice constructive ways of giving feedback.
Til Lalezar Website:
www.tillalezartheatre.com
Til Lalezar Facebook:
https://www.facebook.com/tillalezartheatre/?fref=ts
About Dell'Arte International:
www.dellarte.com
FOR MORE INFO AND TO REGISTER:
CALL PAULINE PRODUCTIONS AT 413-268-3850 OR EMAIL PAULINELIVE@GMAIL.COM
(WE WOULD LIKE TO KNOW WHO IS COMING BY WEDNESDAY JAN 25 TO HELP US PLAN).
WHERE
: FIRST CONGREGATIONAL CHURCH OF ASHFIELD, 429 MAIN STREET
WHEN:
SUNDAY EVENING JANUARY 29, 2017, 5:30-8:30PM (RSVP BY JAN 25 PLEASE)
COST:
PLEASE BRING CASH OR CHECK, PAY WHAT YOU CAN SCALE $20-$35
---
---
Pauline Productions Theatre Company, Jeannine Haas, Artistic Director, 4 Wildwood Lane, Goshen, MA 01032. PaulineLive@gmail.com,
413-268-3850